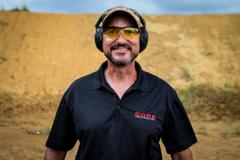 SELECTED AWARDS & HONORS:
Mr. Rodney May began participating in shooting sports with the South West Pistol League in 1987 while attending vocational school in Texas. Upon completion of his training, Rodney returned to Mississippi where he began working as a tech while he continued shooting on the competitive circuit.
In 2003, Rodney started working at the Mid-South Institute of Combat Shooting where he began instructing for the War on Terror as a lead instructor for Special Operations Forces. As lead instructor, Rodney was tasked with integrating competition fundamentals with proven combat tactics. Under the direction of Tier 1 elements, he was able to interrelate the speed and control of competition handgun to the Special Ops community in a format that enhanced their combat effectiveness. While there, Rodney created the CORE Training Concepts style of shooting fundamentals and immediately began implementing it into the training curriculum. Soon after that, he integrated the Carbine into a system for CQB operations that paralleled the pistol fundamentals.
In 2004 Sig Sauer asked Rodney to join their shooting team with an ammo sponsorship from Precision Delta. While with Team Sig, Rodney was the top Sig shooter for Production Division in USPSA where he reached the classification of Grand Master. In 2009 Rodney accepted a sponsorship from CZ Custom after the breakup of Team Sig and a bullet sponsorship with Black Bullet International, both of which he is currently shooting for today.
In 2010 Rodney left Mid-South and began private training classes for competitive shooters as well as private contractors in support of the War on Terror. While at Mid-South and in the years that have followed, Rodney has worked with numerous Military Tier 1 and Tier 2 units as well as Law Enforcement Agencies and SWAT Teams from all over the United States. His vast experience and knowledge in both the competitive and tactical environments make him an extremely versatile and skilled instructor.